Data & Analytics
·
Multiple locations
·
Temporarily Remote
Accelerator program - vil du bli Associate Consultant innen Data & Analytics?
Vil du jobbe med digital transformasjon, skape verdi til våre kunder og bidra til en bedre morgendag?
Høsten 2023 drar vårt Accelerator program innen Data & Analytics igang igjen! Er du nysgjerrig på konsulentrollen? Vil du jobbe med verdiskapende prosjekt sammen med ett sammensveiset team? Vil du vokse i et internasjonalt selskap med nordisk karakter og globale kunder?
Vårt Accelerator Program gir deg muligheten til å skape en fremgangsrik konsulentkarriere i et selskap som vil satse på din kompetanseutvikling og din framtid. Programmet har et begrenset antall plasser – så send inn din søknad allerede i dag!


Programmets innhold
Du blir ansatt som Associate Consultant innen Data & Analytics og under de første seks månedene av programmet kommer du til å delta i et strukturert program der fokuset ligger på din profesjonelle og personlige utvikling. Som Associate Consultant i våre ulike kundeprosjekt kommer du til å være en viktig del av et prosjektteam som jobber med de nyeste produktene innen Data & Analytics. Her vil du jobbe med dyktige kolleger på alle nivå, fra yngre ressurser til erfarne konsulenter.
Under programmet kommer du til å bli introdusert for flere business intelligence verktøy som for eksempel Microsoft Power BI, Infor Birst, Qlik og Tableau. Du kommer også til å jobbe med forskjellige verktøy for datahåndtering. Columbus har en strategisk skysatsing og programmet vil gi deg en grunnleggende kunnskap om plattformer som Azure. Ved interesse finnes det også mulighet å fordype seg innen avansert dataanalyse som AI og maskinlæring.


Programmet fokuserer på
Soft skills – som konsulentegenskaper/rådgivning, presentasjonsteknikk, globalt samarbeide og prosjektmetodikk
Praktisk kunnskap i de nyeste produktene innen dataanalyse – gjennom e-læring og lærerstyrt undervisning / Q&A
Kundeprosjekt – komme ut i virkeligheten, delta i spennende implementeringsprosjekt
Din personlige mentor kommer til å gi deg en strukturert veiledning og hjelpe deg til å vokse inn i rollen som en dyktig konsulent.
Vi ser på alle våre medarbeidere som langsiktige medarbeidere. Derfor kommer vi, sammen med deg, til å sette opp en utivklingsplan som strekker seg ca 2-3 år fram i tiden.


Etter programmet
Jobber du som konsulent og bidrar i å lede kunden i sine transformasjonsprosjekter
Har du fått verdifull og praktisk kunnskap som du bruker for å veilede våre kunder til å jobbe smartere i sine prosesser
Har du skaffet deg en super karrieremulighet – både i Norge og globalt


Hvem er du?
Du har interesse for virksomhet- og forretningsprosesser og trives i dialog med kunde. Du har gode kommunikasjonsevner og synes det er gøy å etablere gode og langsiktige relasjoner. Du tenker logisk og er nysgjerrig på ny teknikk som kan øke verdier i et selskap. Vi forventer at du er en lagspiller – for hos oss jobber vi i team.
Relevant utdanning innen økonomi, systemvitenskap, sivilingeniør eller tilsvarende
Noe relevant arbeidserfaring vil være en fordel
Gode kunnskaper i både norsk og engelsk, skriftlig og muntlig
Du må gjerne ha jobbet noen år etter utdanningen din – det er bare et pluss. Det vil også være fordelsaktig med erfaring og kunnskap om databaser.


Er du klar for å ta utfordringen?
For å delta i programmet trenger du å investere i din utvikling og læring. Programmet er intensivt og læringskurven bratt. Dette krever engasjement og målorientering fra din side. I gjengjeld gir vi deg en aksellerert karrieremulighet i et høyt kompetent og kreativt miljø, hvor vi også har det gøy på jobb! Våre kunder stoler på at vi guider dem til de beste løsningene og dette vil du med din kunnskap og kompetanse spille en viktig del i. Du vil være med å påvirke våre kunders forretning og hjelpe de i å optimalisere sine prosesser.


Søknad og neste steg
Hos oss kan du søke med din LinkedIn profil og/eller CV, og du behøver ikke å fylle ut lange spørsmålsformuleringer. Søknadsfrist: 23. oktober. 

Department

Locations

Remote status

Temporarily Remote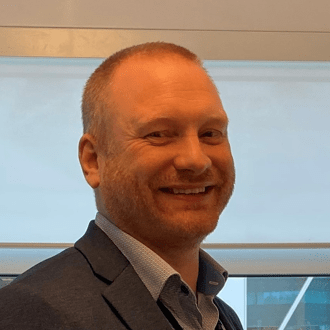 Contact
Eirik Ask
Consulting Manager – Data & Analytics
About Columbus Norway
We bring digital transformation so our customers can thrive far into the future.
Columbus is a global IT services and consulting company and we are experts in designing, developing, implementing, upgrading and maintaining digital business applications. Our mission is to help our customers to gear up for the future and to succeed in the digital transformation. Any change is daunting but we will be there, every step on the way.
Our secret to success is a comprehensive solution portfolio, deep industry knowledge, extensive technology expertise and profound customer insight. And of course, our entrepreneurial environment, passion to develop ourselves and strong team spirit. This has worked very well for us over 30 years.
Are you ready to transform with us?
Coworkers
2200 worldwide, 185 Norway
Turnover
1,9 milliarder DKK (2019)
Data & Analytics
·
Multiple locations
·
Temporarily Remote
Accelerator program - vil du bli Associate Consultant innen Data & Analytics?
Loading application form
Already working at Columbus Norway?
Let's recruit together and find your next colleague.