Data & Analytics
·
Multiple locations
·
Temporarily Remote
Senior Consultant
Do you want to be a part of our Data & Analytics Journey?
Do you love developing Data, Analytics and Business Intelligence solutions?
Would you like to work somewhere where you can make a difference?
Do you want to be a part of our Data & Analytics Journey?

Then you could be our new colleague!

As part of our team, as a Senior Consultant, you will help our customers to be one step ahead when we take them on a lifelong and ambitious data-driven journey. This is a journey that is not only about data, but also about creating value for business and people. We want our customers to be better equipped to make important, data driven decisions.
In Data & Analytics, we are on a journey. Our ambition is to make the world more data driven. The team in Norway has grown rapidly both in number of employees and projects, and we will continue to do so. Our growing team is characterized by good working environment where we support each other, and your will have flexibility and influence in your role. At Columbus you will not be another cog in the machine.
As a Senior Consultant, you will work on uncovering customer needs, both technically and business-wise. You will engage in pre-sales activities with colleagues and be responsible for turning the customer's business goals into BI solutions using the latest Microsoft technology. In addition, you will work on developing and establishing ETL and DW while being a trusted advisor within your area.
The position is therefore suitable for those who enjoy both back-end tasks in Azure and front-end tasks such as Microsoft Power BI and customer consulting. With us, we want you to shine and be a digital advisor for our customers.

Why is this a great job opportunity?
We focus on the newest market trends and Microsoft technologies to ensure that we can match our customers' business development requirements with technological capabilities. This means that you will get to work with the most up-to-date solutions for a cloud-based future. We want customers for life and are involved with interesting companies - and our customers are both national and international.
Our Team in Norway has grown rapidly in term of staff and projects. However, we are still a small team where your input will be valued, and your task will vary.
Qualifications
Just like us at Columbus: passionate about making the world more data-driven based on the latest technologies and methods. This stirs your curiosity so that you can't help but to explore new technologies and better ways to push the world forward.
To succeed in the role, we see that you have:
Experience within Microsoft's Data Platform or similar setups
Experience with ETL processes and data warehousing
Experience with Azure cloud
Knowledge of tools such as MS Power BI, Tableau and others
Fluent Norwegian and English skills
Can refer to relevant higher education
We see it as a big plus if you have experience with development in SQL, SSIS and SSAS


We offer:
Columbus has a good reputation in the IT industry and you will have the opportunity to work on several exciting projects with our customers. The role involves freedom under responsibility with a high degree of flexibility. Workplace will depend on where you live. We have premises in Oslo (Barcode), Bergen, Tønsberg, Kristiansand and Trondheim.
Flexibility in everyday work, good social environment and pleasant colleagues
Exciting customer projects, as well as challenging and varied tasks
Good insurance schemes that include favorable health insurance
Attractive lunch arrangement in the canteen with high quality
Competence development through established career framework and Columbus Academy


About Columbus:
Columbus is an IT consulting company with more than 2,000 employees around the world. We guide customers in their digital transformation so that their companies can continue to be successful for a long time to come.   
With our three-year strategy 'Focus23' we aim to be the preferred digital trusted advisor so that we can unleash our full potential, locally and globally. We want customer centricity, larger customers, and a true global operating model. We focus even more now on delighting our customers, empowering our people and including sustainability in everything we do.   
And we have a solid starting point! – For the past years we have established a strong market- and financial position, offered end-to-end digital solutions and improved our customer loyalty. 
Department

Locations

Remote status

Temporarily Remote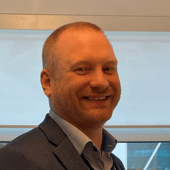 Contact
Eirik Ask
Consulting Manager – Data & Analytics
About Columbus Norway
We bring digital transformation so our customers can thrive far into the future.
Columbus is a global IT services and consulting company and we are experts in designing, developing, implementing, upgrading and maintaining digital business applications. Our mission is to help our customers to gear up for the future and to succeed in the digital transformation. Any change is daunting but we will be there, every step on the way.
Our secret to success is a comprehensive solution portfolio, deep industry knowledge, extensive technology expertise and profound customer insight. And of course, our entrepreneurial environment, passion to develop ourselves and strong team spirit. This has worked very well for us over 30 years.
Are you ready to transform with us?


Coworkers
1600 worldwide, 186 Norway
Data & Analytics
·
Multiple locations
·
Temporarily Remote
Senior Consultant
Do you want to be a part of our Data & Analytics Journey?
Loading application form
Already working at Columbus Norway?
Let's recruit together and find your next colleague.